Name: Jacquelin Anne Speck
Adopt a nicname: The Omnipotent The Alpha and the Omega The Lord Yaweh GOD
Age: 5 + 5 + 4 + 2 + 1 = ??
Where are you from?: Holmesburg-Mayfair, Northeast Phillytown, Philadelphia, PA, USA, North America, Earth.
Favorite color: Gray.
describe yourself: Half Asian, half Generic White Person girl with long curly multi-tone hair and a terrible sense of style, enjoys books, bass, guys, guitars, pianos, pina coladas and getting caught in the rain.
Pic of you (if possible): Well, FINE...

post a pic of what kind of bunny you think you would be: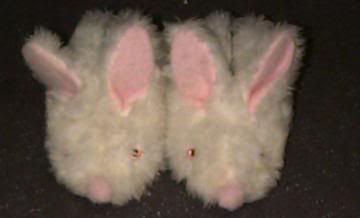 Yes, bunny slippers. =D

Mission statement: Seek and destroy Love all my fellow humans

[

Error:

Irreparable invalid markup ('<_<>') in entry. Owner must fix manually. Raw contents below.]

<lj-cut text="I am not a beautiful and unique snowflake =(">
<b>Name:</b> Jacquelin Anne Speck
<b>Adopt a nicname:</b> <s>The Omnipotent</s> <s>The Alpha and the Omega</s> <s>The Lord</s> <s>Yaweh</s> <big><b><font color="red">GOD</b></big></font>
<b>Age:</b> 5 + 5 + 4 + 2 + 1 = ??
<b>Where are you from?:</b> Holmesburg-Mayfair, Northeast Phillytown, Philadelphia, PA, USA, North America, Earth.
<b>Favorite color:</b> Gray.
<b>describe yourself:</b> Half Asian, half Generic White Person girl with long curly multi-tone hair and a terrible sense of style, enjoys books, bass, guys, guitars, pianos, pina coladas and getting caught in the rain.
<b>Pic of you (if possible):</b> Well, FINE...
<img src="http://img21.photobucket.com/albums/v64/venicexqueen/jackypromprep1.jpg">

<b>post a pic of what kind of bunny you think you would be:</b>
<img src="http://img.photobucket.com/albums/v64/venicexqueen/Bunny_Slippers.jpg">
Yes, bunny slippers. =D

<b>Mission statement:</b> <s>Seek and destroy</s> Love all my fellow humans <_< >_>
</lj-cut>

This "thingie" will self-destruct in 5...4...3...2...1...

::runs away::